Miami Signs
Our broad array of professional Miami Signs, state-of-the-art, quality and timely-delivered Miami business signs span over a wide range of customer-focused services. And through continual and consistent refinement or our product and service portfolio, we have been able to carve out a name for ourselves in the competitive business signage niche. A name that has become synonymous with excellence, superiority, and preeminence. This has also contributed significantly to us becoming one of the most highly-sought business signs Miami service provider even in the greater Florida region. We have been designing, building and maintaining business signs in Miami for the last decade, and unlike your average lettering enterprise, we do more than just professional signage services.
Best business signs in Miami Beach for affordable prices
Encompassing almost everything; from entrance signs tailored to create a lasting first impression to outdoor advertising signs, our business signs Miami solutions are designed to give you an all-around experience. What's more, we will even go a step further and save you a lot of time through our business sign design and management approach. Here's where we save you the hassle of having to come up with your own unique branding – just in case you're starting out – by doing a big part of the groundwork for you. In other words, we will not only customize your Miami sign to reflect your enterprise' mission and vision but also suggest strategic places where you stand to make the most out of them. Having said that, our general professional signs Miami are characterized by the following;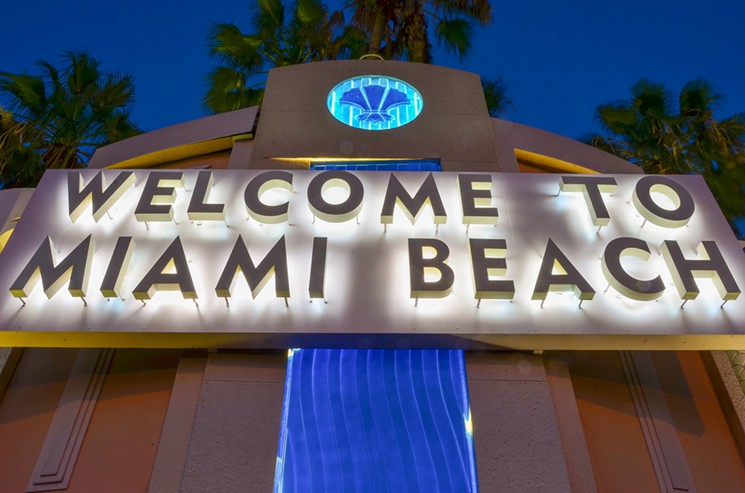 1. Uniquely and Exceptionally Designed
Your business sign is the first thing anyone visiting your company will notice. Like anything else in life, first impressions matter quite a lot. In a day and age when consumer spending hinges heavily on impulse shopping, an awe-inspiring storefront sign can make the difference between massive profits and a reduced sales conversion rate. Speaking of which, an excellent, not-so-common, and thoughtful business sign is pivotal to the success of your Miami business. Regardless of the field or niche that you're dabbling in, nothing makes it easier to convince reluctant shoppers like an impactful storefront sign. We are all arguably attracted to or would love to be associated with premium outlets, and a lavish-looking sign is the first step towards this.
In line with this, we can help take your business to the next level by redesigning or reworking your current business sign to a newer, more-efficient and imposing panel. One that is guaranteed to direct massive traffic of potential clientele to your company's front door. All orders that are placed with us are meticulously and expeditiously crafted to meet our client's needs. There's no better way of standing out from the crowd than through our top-of-the-range exceptionally-designed business signs.
2. Excellent Build Quality
Being one of pre-eminent Miami signs designers and developers in Miami, Florida, we take pride in our unparalleled craftsmanship. Not only are our Miami signs attractively designed, but they are also made to last a lifetime as well. We also invest copious amounts of money and time in developing, refining and improving our Miami signs fabrication techniques with the greater objective of meeting the needs of a business owner based in Miami. Our main production facility is well-equipped with a broad variety of vinyl graphics backed up by an assortment of metal & wood slivers to oversee a remarkable craftsmanship process. Far from that, our futuristic computerized routing process banks heavily on a full paint system to churn out distinct business signs. A combination of these two is sufficient to put your enterprise ahead of the crowd.
3. Installation
Professional business signage is more just crafting exceptional signs. It is also supervising the installation and construction of quality, customized brand signs in your storefront. Keep in mind also that a poorly installed sign is also a safety risk in addition to the lessened durability that accompanies an ill-installed poster. Being a top business sign designer, we also fully bonded and licensed as far as the physical installation of signs in Miami is concerned. Besides, apart from keeping avoidable accidents at bay, professional business sign installation is also one of the ways of ensuring that your new poster stands for several years to come.
Our product portfolio that is a hallmark of the competence and professionalism of Miami Dolphin Signs revolves around the following.
1. Outdoor Signs
Investing in quality outdoor signs is the easiest form of advertising and establishing your new business' street presence. However, there are hordes of business signage on our roads, streets, and alleys. It goes without saying that if yours doesn't stand out, you will miss out on creating a lasting stream of new potential customers. Our outdoor Miami business signs are individually designed to reflect your company's style.
2. Facility Branding
Touching on everything from office branding to monument business signs, a good brand name seen through the lens of exceptional signage is key to a successful Miami sign program. If anything, the height of impressive custom signage is taking into consideration of a client's needs when developing remarkable signs for their enterprise. This is the same language that we speak.
3. Entrance Business Signs that Leave a Lasting Impression
The best way to winning customers is by investing in an entrance sign that encompasses your business image, principles and goals. Here at Dolphin Signs Miami, we build, design and install the best entrance business signs at a reasonable price point.
4. Customized Miami Signs
From the extravagant to basic, we specialize and focus on building and designing quality custom business & office signs that speak your brand and business style. It is no secret that integrating your style and brand in your office space is a powerful method of boosting sales and enhancing a client's experience with your premises. As a reputable Miami sign company, our approach to an office sign project circles exploring the creative business aspect of an enterprise in a bid to unearth those elements that make it really unique. We will then utilize these same elements to come up with signage that amplifies and exemplifies your business brand message.
Great business signs with Signs of Reilly are more than a way of stamping your authority in a new neighborhood. Quality graphics and signage play a fundamental role in promoting your enterprise' ideal in a new market too.